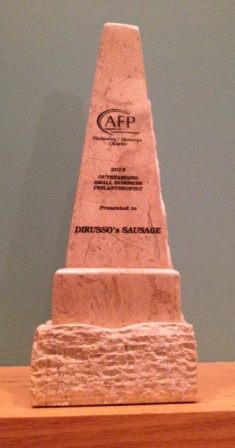 The Mahoning Shenango Chapter of the Association of Fundraising Professionals recognized individuals, organizations and businesses at a luncheon and reception on November 15, 2013. The event was the 23rd annual celebration of National Philanthropy Day.
National Philanthropy Day is a nationally recognized event established by Congress in 1986. It recognizes the contribution that philanthropy and those people active in the philanthropic community have made.
The "Outstanding Small Business Philanthropist" award was presented to DiRusso's Sausage. Robert A. DiRusso, president and owner of DiRusso's, proudly accepted the award.