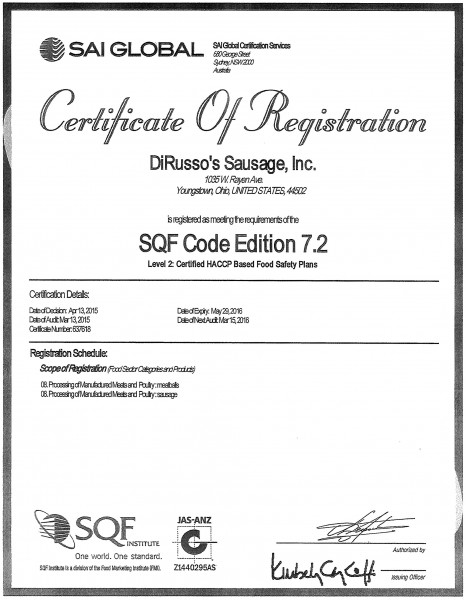 Meat products produced by DiRusso's Sausage, Inc. are produced under the United States Department of Agriculture Grant of Inspection.
DiRusso's is a federally inspected facility (establishment #15841 and P-15841) and operates under Good Manufacturing Procedures, Standard Sanitation Operating Procedures, Hazard Analysis Critical Control Points, Ethical Sourcing Program, and an Allergen Awareness Program. As part of the Global Food Safety Initiative (GFSI), DiRusso's has Certification of Registration with SQF Institute
(Level 2: Certified HACCP Based Food Safety Plans).
All products are guaranteed on the date of shipment to be produced and labeled according to the rules and regulations of the Meat Inspection Act.
In addition to meeting all the requirements of the Food Safety Inspection Service (FSIS) division of USDA, DiRusso's assures that a validated temperature is maintained at safe limits at all times. DiRusso's uses only raw materials produced by other USDA inspected facilities.
DiRusso's Sausage, Inc. will exercise due vigilance and adopt all measures to assure the safety and quality of the quality of the products we market.
Our company's Food Safety Program includes but is not limited to the following:
Calibration of Equipment
Sanitation Testing
Label Inspection
Code Dating
Pest Control
Employee Training
Metal Detector
Employee Processing Practices
Product Identification
Receiving/Shipping Policies
Recall Procedures
Hold and Release
Internal Audits
Maintenance
Rotation
Complaint Management
Food Defense Plan
Foreign Object Investigation