Featured Recipes
Italian Sausage (Pork/Turkey)
Bread Stuffing with Sausage
DiRusso's Italian Sausage Link Sandwich
Eggplant Parmigiana
Escarole, White Beans & Sausage
Italian Sausage Party Tray
Linguine with Zucchini and Sausage
Mama's Pasta Meat Sauce
Pasta e Fagioli with Sausage
Rice and Sausage
Sausage Brunch Casserole
Sausage Omelet
Sausage, Potato and Pepper Roast
Stuffed Cubinelle Peppers With Sausage
Stuffed Mushrooms
Stuffed Spaghetti Squash
Tortellini Soup
Meatballs (Beef/Turkey)
Grandma's Italian Wedding Soup
Italian Beef Soup with Mini-Meatballs
Meatball Splash Sandwich
Quickie Vegetable Mini Meatball Soup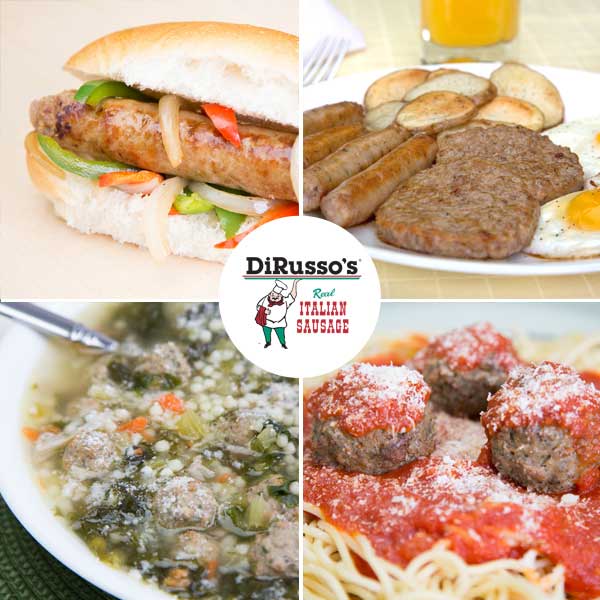 Italian sausage is deeply rooted in regional traditions and cuisines. DiRusso's 

Real

Italian Sausage has become the favorite sausage in Northeast Ohio and beyond.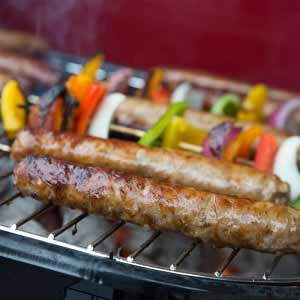 DiRusso's Italian Sausage Links (Sweet, Medium Hot, and Hot flavors) are perfect for backyard grilling. Each portioned 4 oz. link in collagen casing makes for easy and uniform cooking.
DiRusso's Italian Sausage Link Sandwich
Our famous sandwich served at fairs and festivals –
2 pounds (8 links) 

DiRusso's Italian Sausage Links


or

DiRusso's Turkey Italian Sausage Links

1 jar (14 oz.) pizza sauce or marinara sauce
1 large green bell pepper, chopped
2 Spanish onions, chopped
1/4 cup vegetable oil
8 Italian hard rolls (6 inch), split halfway lengthwise
1/4 pound Mozzarella or Provolone cheese, shredded (optional)
Prepare links according to cooking instructions below. In a large skillet, saute peppers and onions in oil. In a sauce pan, heat sauce. Place a cooked sausage link in a roll. Scoop peppers and onions on top of sausage and ladle sauce down the middle of the bun. Sprinkle shredded cheese on top of sauce. Serves 8
COOKING INSTRUCTIONS FOR SAUSAGE LINKS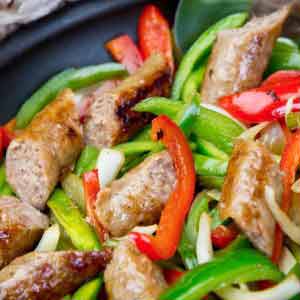 Directions are for frozen links.
Cooking times are approximate.
GRILL: Grill links over medium heat for 25-30 minutes, turning often.
SKILLET: Lightly oil skillet. Cook links, partially covered, over medium heat for 20-25 minutes, turning often.
BAKE: Preheat oven to 350°F. Place links on baking sheet. Bake links uncovered, for 30 minutes, turn and bake an additional 20 minutes.
COOK UNTIL TEMPERATURE IS A MINIMUM OF 160°F AND THE CENTER IS NO LONGER PINK